Seishun 18 Kippu

basic
information
The Seishun Juhachi Kippu, meaning something like "Youthful 18 Ticket", is a seasonally available railway ticket, which gives you five days of unlimited, nationwide travel on local and rapid JR (Japan Railways) trains for only 11,500 Yen, or 2,300 Yen per day!
Availability
The Seishun 18 Kippu is only available three times a year during school holiday seasons, as shown in the table below (subject to change):
| | | |
| --- | --- | --- |
| Period | Valid | On Sale |
| Spring | March 1 to April 10 | February 20 to March 31 |
| Summer | July 20 to September 10 | July 1 to August 31 |
| Winter | December 10 to January 20 | December 1 to January 10 |

Eligibility
Despite its name, the Seishun 18 Kippu can be used by people of any age. It is available to foreign tourists as well as Japanese nationals and foreign residents of Japan. However, there is no child fare.

Usage
Where is it sold?
The Seishun 18 Kippu can be bought at most JR stations across Japan. Consult the table above for the dates during which the ticket is on sale.
How does the ticket look like?
The ticket is one small card with five fields to be stamped on each day it is being used.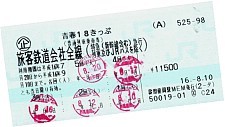 Can it be shared?
The Seishun 18 Kippu is a non-personal, transferable ticket, meaning that it can be used either by one person on five days or be shared by up to five different people. When sharing one ticket as a group, you always need to travel together, and each person uses up one of the ticket's five days of validity. Some examples on how the ticket can be used are listed below:
1 person uses it on 5 days (it can be a different person each day)
2 people share it on 2 days, and 1 person uses it on 1 day
2 people share it on 1 day, and 1 person uses it on 3 days
3 people share it on 1 day, and 2 people share it on 1 day
5 people share it on 1 day
etc.
How to use it?
You cannot use automatic gates with the Seishun 18 Kippu. Instead, you have to pass through the manned gates and show the ticket to the station staff. At the beginning of each day's usage, the station staff will stamp one of the five fields with a stamp showing the current date. If you travel in a group, one field will be stamped for each member in your group.
When is it valid?
The ticket is valid on five days during the period of validity (see table above). The five days do not need to be consecutive days. One day is defined as from midnight to midnight, except in the Tokyo and Osaka areas where the ticket is valid until the last train. In all other areas, when you are on board of a train at midnight, the ticket is valid up to the first station reached after midnight.
Which trains can be used?
The ticket is valid only on local trains (futsudensha/kakuekiteisha) and rapid trains (kaisoku), operated by the Japan Railways (JR). It cannot be used on express (kyuko), limited express (tokkyu) and bullet trains (shinkansen).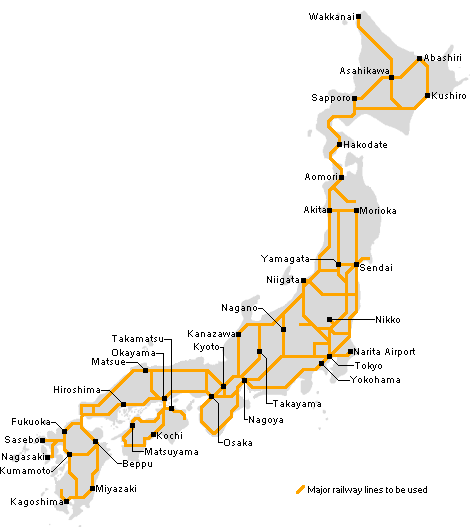 Is it valid on night trains?
Most night trains are classified as either express or limited express and cannot be used with the Seishun 18 Kippu. There are, however, a few night trains which are classified rapid trains (kaisoku) and can be used with the ticket. They are very popular among Seishun 18 users, because they allow you to maximize the distance traveled during a 24 hour period. Some of those kaisoku night trains are:
Moonlight Nagara: Tokyo - Nagoya - Ogaki (daily)
Moonlight Echigo: Shinjuku - Niigata (daily)
Moonlight Kyushu: Shin-Osaka - Hakata (on selected days)
Moonlight Matsuyama: Kyoto - Matsuyama (on selected days)
Moonlight Kochi: Kyoto - Kochi (on selected days)
Is it valid on non-JR trains?
The ticket can be used only on trains operated by the Japan Railways (JR). (Note that there are a small number of JR trains which partially use the tracks of a different railway company. An additional fee has to be paid on such trains.)

Travel Tips and Timetable Examples
Traveling by local trains is naturally much slower than by shinkansen or limited express. From Tokyo, for example, it takes roughly nine hours and typically one to four transfers of trains to reach Kyoto. (With the shinkansen it takes less than three hours, but the ticket costs more than five times as much.)
On major lines, such as the Tokaido Line and the Sanyo Line, local train service is so frequent that you could actually "survive" without preparing a prior itinerary, but on many other lines, local service is infrequent and connections inconvenient. Therefore, it is highly recommended to create an itinerary in advance by studying the timetables.
Below are some example timetables to give you an idea of how far you can get in one day:
From Tokyo:
To Western Japan (Nagoya, Kyoto, Osaka, Shikoku, Hiroshima, Kyushu)
To Tohoku (Sendai, Morioka, Akita, Aomori)
To Hokkaido (Hakodate, Sapporo)
All information on these pages is subject to change. Double-check before starting your trip!