Odori Park

basic
information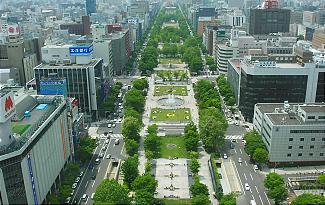 Odori Park is the broad median of Odori ("large street") in the center of Sapporo, separating the city into North and South. The park stretches over twelve blocks and offers pleasant green space during the warmer months, while staging the annual Sapporo Snow Festival in February.
At the eastern end of Odori Park stands the TV Tower with an observation deck that offers nice views of Odori Park and the city of Sapporo.
Any advice or questions? Voice them in the forum!

how
to get there
Odori Park is five blocks or a 5-10 minute walk south of Sapporo Station. All of Sapporo's three subway lines intersect at Odori Station, which is one station south of Sapporo Station on the Nanboku and Toho Line.