Nijo Market

basic
information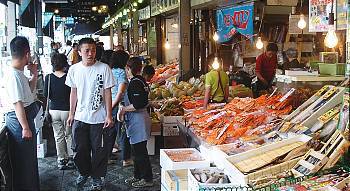 Nijo Market is a public market in central Sapporo, where locals and tourists shop for fresh local produce and seafood such as crabs, salmon eggs, sea urchin and various fresh and prepared fish.
A recommended way of visiting the market is by having a fresh seafood breakfast at one of the small restaurants found between the shops.
Among the most popular menu items for starting the day is the uni ikura donburi, sea urchin and salmon eggs on rice (see picture).
The Nijo Market is open from around 7am to around 6pm on all days of the week, with individual shops maintaining their own opening hours and closing days.