Kushiro Shitsugen National Park

basic
information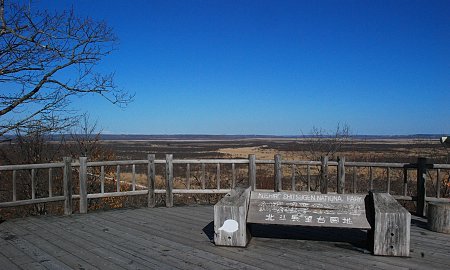 Kushiro Shitsugen National Park in Hokkaido was established in 1987 and is Japan's most recently designated National Park. It was created in order to preserve the country's largest wetland and marsh habitat which supports the only known population of endangered Japanese Cranes in Japan.
The park is located between Kushiro City and Akan National Park and is easily visited when traveling between the two. The park does not receive much snowfall, even in winter, and offers bird watching, nature viewing, and walking trails. Japanese Cranes can be viewed there year round and attract hundreds of photographers.
| | |
| --- | --- |
| Dancing Cranes | Photographers at the Tancho Observation Center |
Japanese Cranes, also known as Tancho (lit. red head), were thought to be extinct in Japan due to overhunting and habitat destruction. However, in 1926 a group of about 20 birds was discovered in the marshes around Kushiro. With conservation efforts they have since made a dramatic recovery and now number more than 1000 birds.
The cranes are most spectacular to watch as they dance, often in pairs, with seemingly choreographed dips and jumps. The cranes are best seen in the winter as they gather at winter feeding sites. These sites are best accessed by car, but they can also be reached by public transportation.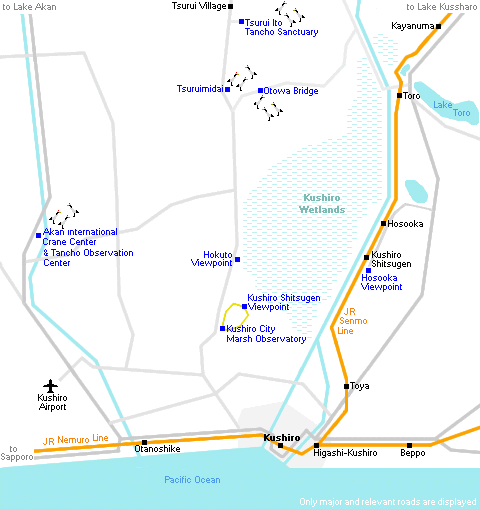 Centers:

Akan International Crane Center
Hours: daily 9:00 to 17:00
Closed: Mondays (April to October)
Admission: 400 yen (includes Tancho Observation Center)

The Akan International Crane Center is a museum, breeding center, and sanctuary where cranes can be seen year round. It has a good exhibit about crane history and ecology with English explanations.

Kushiro City Marsh Observatory
Hours: 8:30 to 18:00 (9:00 to 17:00 November to April)
Closed: New Years Holidays
Admission: 400 yen

The Marsh Observatory is connected to the Kushiro Shitsugen Viewpoint by a number of boardwalk paths that offer nice, easy walks. The Observatory houses exhibits about the surrounding marshlands.
Feeding Stations:
These are open from November to March to offset food shortages of the colder winter months. Visitors can watch the feedings which are once or twice a day depending on the station. Feeding times are the best times to see groups of cranes together.

Tancho Observation Center
Hours: 8:30 to 16:00 (8:30 to 16:00 February to March)
Closed: April 1 to October 31
Admission: 400 yen (includes Akan International Crane Center)

The Tancho Observation Center is a winter feeding ground adjacent to the Akan International Crane Center. The facilities include an observation room, toilets, and a small restaurant.

Tsurui Ito Tancho Sanctuary

The Tsurui Ito Tancho Sanctuary feeding ground is on the same grounds as the Japan Wild Bird Association Nature Center. Although there are no facilities at the feeding ground itself, the Nature Center across the street has an observation room and a research center.

Tsuruimidai

Tsurumidai is a feeding ground located directly beside Route 53. There are no facilities at the feeding ground except for a parking lot large enough to accommodate a few tour buses. There is also a restaurant across the street.
Winter Roosting grounds:

Otowa Bridge

In winter the cranes come here at night to roost in the relative safety and warmth that the river provides. They are best observed in the mornings as they are usually out feeding during the day. The bridge is only accessible by car.
Viewpoints:
The landscape of Kushiro Shitsugen National Park can be viewed from various viewpoints around the park.

Kushiro Shitsugen Viewpoint
Kushiro Shitsugen Viewpoint
This viewpoint can be reached in about 15 to 20 minutes by a (wheelchair accessible) boardwalk path from the Kushiro City Marsh Observatory. There are numerous paths in the area, some of which lead down to the edge of the marsh.

Hokuto Viewpoint
Hokuto Viewpoint
This viewpoint is located right beside Route 53 and offers unobstructed views of the park. It is accessible by car or bus.

Hosooka Viewpoint
Hosooka Viewpoint
Located on the eastern edge of the park, this viewpoint is especially beautiful at sunset. It can be accessed by car or by a diesel train from Kushiro Station.