Botanic Garden

basic
information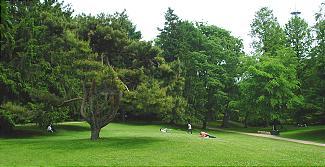 This botanic garden close to Sapporo's city center belongs to the Hokkaido University and primarily serves a scientific and educational purpose. It is also a pleasant place to take a break or to have a (non-alcoholic) picnic.
Established in 1886, the Botanic Garden preserves a small part of the forest which formerly covered the Ishikari Plain. In addition, there is an alpine garden, a greenhouse, a small Ainu museum and several other minor attractions.
Note that an admission fee applies, and that during the winter month, only the greenhouse remains open to the public.