Sapporo Beer Museum

basic
information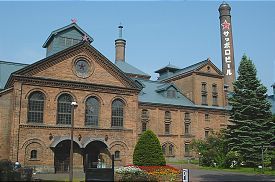 Hokkaido is the birthplace of beer in Japan. "Sapporo Beer", one of the oldest and still most popular beer brands in Japan, has been brewed in Sapporo since 1877. It is now brewed and sold internationally.
The Sapporo Breweries, the oldest of Japan's four leading breweries, opened the Sapporo Beer Museum in 1987 in a Meiji Period red brick factory building. The museum introduces the history of beer in Japan and the process of beer making. Tasting of various types of beer is possible at a small fee.
Next to the museum stands the Sapporo Beer Garten which consists of three spacious beer halls.
The Beer Museum can be accessed by the "Loop 88 Factory Line" bus that stops among other places at Odori Station and in front of Seibu department store near Sapporo Station. Alternatively, it is a 20-30 minute walk from Sapporo Station.
Address: North 7, East 9