Japan Budget Travel

basic
information
Accommodation
After a friend's home, youth hostels and dormitories are the cheapest types of accommodation in Japan.
There are over 300 youth hostels across the country, where members spend about 3000 yen per night. Non-members pay about 1000 yen more or purchase a one-year membership at the hostel. Dormitories typically cost between 1500 and 3500 yen per night and are mainly found in Japan's larger cities.
If you prefer Japanese style accommodation, consider minshuku, Japanese style bed and breakfasts. Minshuku typically charge between 5000 and 10,000 Yen per person, per night, and sometimes include one or two meals. No-frills minshuku can cost as little as 3000 yen, while some low-cost ryokan offer similar services at similarly low rates.
Hostelworld is a leading online reservation system for dormitories and hostels.
If you stay in Tokyo or another large city for one week or longer, gaijin houses are an inexpensive accommodation option worth considering. The minimum contract term is usually one month, but some houses also offer weekly or even daily rates.
Also worth consideration are individual tour packages. Because large tour companies purchase hotel rooms in large numbers, they are able to offer quality accommodation at rates far below those available to individual consumers.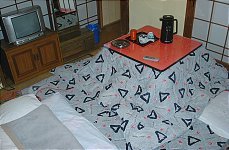 Room in an inexpensive ryokan
Transportation
Consult the following pages about discount tickets:
Guide to Japanese train tickets
Rail Passes
Japan Rail Pass
Seishun 18 Kippu
Discount Air Tickets
Highway Buses
An easy way to save money on transportation is to not travel long distances inside Japan, but rather concentrate on only one city and its surroundings. For example, limit your visit to the Kanto Region around Tokyo or the Kansai Region around Kyoto and Osaka.
Another option is purchasing an open jaw air ticket, with which you enter Japan through one airport, for example Tokyo's Narita Airport, and leave through a different airport, for example Osaka's Kansai Airport, thereby saving the costly return trip from Osaka to Tokyo.
All foreign visitors to Japan who wish to see more than one region of Japan should consider the Japan Rail Pass. The Japan Rail Pass offers unlimited, nationwide travel on almost all trains operated by the Japan Railways, including most shinkansen (bullet trains) for 7, 14 or 21 consecutive days at a cost that residents of Japan (who cannot use the pass) can only dream of.
While the Japan Rail Pass is a great offer for visiting several regions of Japan, other rail passes and train tickets can be a better value depending on your itinerary.
Furthermore, highway buses, airplanes and long distance ferries can be economical alternatives to railways. Overnight highway buses, in particular, can be a great value, since you can save the cost of one night's accommodation.
Over long distances, for example from Tokyo to Sapporo, Okinawa or Kyushu, airplanes can easily be the most economical choice, especially if you take advantage of the many great discounts available on domestic flights, such as the Japan Air Passes.
If you travel in large groups or in the remote countryside, car rental may be both the most economical and most convenient option. ToCoo is highly recommended for its great car rental rates and support in English.
For urban transportation, you may be able to save money by buying day passes instead of single tickets. The Narita Airport and Kansai Airport pages have information on inexpensive ways of accessing the airports.
Finally, adventurous travelers may want to consider exploring Japan by bike, or even by hitchhiking. The book Hitchhiker's Guide to Japan by Will Ferguson was written on the subject.
| | |
| --- | --- |
| Japan by bicycle | Japan Rail Pass |
Food
Convenience stores, which can be found in large numbers across the country, offer inexpensive food such as a sushi rolls, onigiri (rice balls) and other snacks.
In business areas and around train stations, there are usually a number of fast food type restaurants where you can easily have a full meal for under 1000 yen. Noodles (ramen, soba and udon), domburi, curry rice and hamburgers are some typical dishes available at such restaurants.
Some people recommend making lunch your biggest meal of the day, as many restaurants offer inexpensive teishoku (set menus) for around 1000 yen during the lunch hours.
Obento ("lunch boxes") are another good deal, and usually cost 500 to 1000 yen. They are sold at temporary stands in business areas during lunch hours, or at convenience stores, department stores and train stations throughout the day.
Yoshinoya, famous for very inexpensive
beef domburi (280 yen)

Teishoku (set menu)