Flower and Lavender Fields

basic
information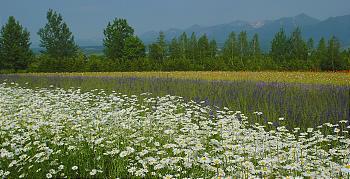 Lavender has been cultivated in Hokkaido for more than half a century. When the arrival of lower priced, imported lavender led to a decrease in demand for Hokkaido's lavender in the 1960s and 70s, the local lavender's main function shifted from agricultural product to tourist attraction.
Nowadays, Furano's lavender fields attract large numbers of visitors to the region every July and August, when the plants are in full bloom.
There are fields of various sizes all across the Furano and Biei region. One of the best spots to view the lavender is Farm Tomita, whose lavender and flower fields with the Daisetsuzan and Tokachi mountain ranges as backdrop are spectacular.
Farm Tomita also features a dried flower exhibition, perfume and distillery workshops, a green house and several gift shops selling lavender goods ranging from lavender soft cream to dried flower bouquets, oils, perfumes and soaps.
Any advice or questions? Voice them in the forum!

how
to get there
Farm Tomita stands in Nakafurano Town. During the lavender season, some trains on the Furano Line stop at the seasonally operated "Lavender Batake Station", from where the farm can be reached in a 5 minute walk. Otherwise, it is a 30 minute walk or 5 minute taxi ride from Nakafurano Station. By car, the farm is about 10-15 minutes from central Furano.
How to get to and around Furano