Nagoya Port

basic
information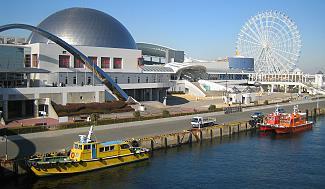 Nagoya Port, south of the city center, is one of Japan's largest ports. One part of the port, the Garden Pier, has been redeveloped in recent years as a leisure district and offers an aquarium, shopping mall, amusement park, museums and green space.
The Port of Nagoya Public Aquarium is one of Japan's larger and better aquaria. In two buildings, it exhibits and educates about marine mammals including dolphins, orca and beluga whales and other marine creatures from five aquatic regions between Japan and the Antarctic Ocean.
Moored in the harbor is the Fuji icebreaker, the ship used by Japan to explore the Antarctic Ocean from the 1960s to the 1980s. It is now accessible to the public as Antarctic Museum.
Any advice or questions? Voice them in the forum!

how
to get there
Nagoya Port is best accessed by the Meiko Subway Line. The various attractions are within walking distance of Nagoyako Station, the subway line's terminal station.
From Nagoya Station, take the JR Chuo or JR Tokaido Line to Kanayama Station (3 minutes, 160 yen) and transfer to the Meiko Subway Line to Nagoyako Station (10 minutes, 230 yen).
From Sakae Station, take the Meijo/Meiko Line Subway Line to Nagoyako Station (15 minutes, 260 yen). Roughly every second train on the Meijo Line operates on the Meiko Line from Kanayama to Nagoyako Stations instead of continuing on the loop of the Meijo Line.