Hirosaki

basic
information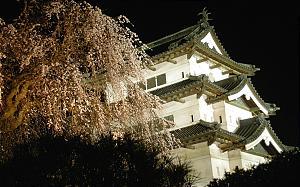 Hirosaki Castle
Hirosaki used to be the political and cultural capital of the Tsugaru Region during the Edo Period, and remains one of the culturally richest cities in the northern Tohoku Region. Hirosaki's main attractions include its castle, samurai district and temples.
Attractions
Hirosaki Castle

(1)

Most famous cherry blossom spot in Tohoku.

best of the best

best of Japan

outstanding


(1)

-

(99)

most visited attractions
How to get to Hirosaki
From Tokyo, take the JR Tohoku Shinkansen to Hachinohe (about 3 hours), transfer to the JR limited express to Aomori (about 1 hour) and then to a local JR train to Hirosaki (about 45 minutes). The whole one way trip takes around five hours and costs 17,200 Yen.
Important Notes:
Above fees and schedules are subject to change.
For exact train schedules and fares, consult the external link section of our railway page.
For the current Yen exchange rate, click here.