Shiretoko National Park

basic
information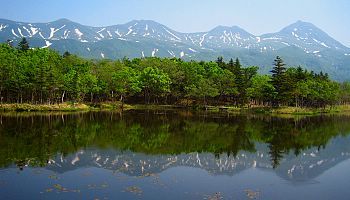 Shiretoko National Park, located on the Shiretoko Peninsula in eastern Hokkaido, is one of Japan's most beautiful and unspoiled national parks. No roads lead further than about three fourth up the peninsula, and the northern tip can only be viewed from boats or be reached on multi day trekking tours.
The peninsula is home to a variety of wildlife, including brown bears, dear and foxes. In winter, the peninsula's coast along the Sea of Okhotsk becomes one of the northern hemisphere's southernmost regions to see drift ice.
In July 2005, Shiretoko was added to the list of UNESCO World Heritage Sites for the irreplaceable value of the peninsula's ecosystem and biodiversity.
Attractions
Kamuiwakka Falls

(6)

A hot waterfall in the middle of nature.

Five Lakes

(1)

Five lakes in beautiful surroundings.

Sightseeing Boats

(4)

Cruises along the peninsula's western coast.

Furepe Waterfall

(6)

Waterfall fed by ground water.

Oshinkoshin Falls

(2)

Waterfall at the national park's entrance.

Utoro

(4)

Hot spring town on the western coast.

Shiretoko Pass

(8)

Mountain pass with views of Mount Rausu.

Eastern Coast

(3)

Rausu Town and hot spring pools at the beach.

best of the best

best of Japan

outstanding


(1)

-

(99)

most visited attractions
Orientation
Orientation


How to get to and around Shiretoko National Park.

About transportation in Japan