Kitano Tenmangu Shrine

basic
information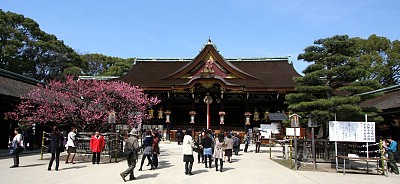 Kitano Tenmangu Shrine is one of several hundred Tenmangu Shrines across Japan. They are dedicated to Sugawara Michizane, a scholar and politician who was unfairly exiled by his political rivals. A number of disasters were attributed to his vengeful spirit after his death in exile, and these shrines were built to appease him.
Sugawara Michizane is associated with Tenjin, the kami ("Shinto god") of education, and many students come to Kitano Tenmangu to pray for success in their studies. The shrine can become especially crowded with students during exam times and school trip seasons.
Michizane loved plum trees and one tree called tobiume, or flying plum tree, is said to have followed him from Kyoto to his exile in Kyushu. Because of this, a plum tree can always be found in front of a Tenmangu Shrine's main building.
Kitano Tenmangu has beautiful plum blossom viewing, especially in a grove of nearly 2000 trees that bloom from February to March. The shrine hosts a special tea ceremony, called Baikasai, in this plum grove every February 25th. The ceremony is performed by maiko and geiko of the nearby Kamishichiken geisha district.
Last but not least, the shrine holds a flea market on the 25th of every month. The shrine grounds and surrounding streets are taken over by hundreds of vendors selling plants, antiques, tools, toys and crafts. There is also a large food section selling festival food such as yakisoba, karaage and takoyaki.
Any advice or questions? Voice them in the forum!

how
to get there
Kitano Tenmangu Shrine can be directly reached by Kyoto City Bus number 101 from Kyoto Station (220 yen, 30 to 45 min). An indirect but perhaps quicker route is to take the Karasuma Subway Line to Imadegawa Station and catch the 102 or 203 bus to the shrine. In either case get off at the Kitano Tenmangumae bus stop.
Another alternative route would be to take bus number 205 from Kyoto Station to Kitanohakubaicho Station on the Keifuku Rail Line. It is a short walk from the station to the shrine.
Orientation in Kyoto

hours
and fees
Kitano Tenmangu Shrine
Hours: Daily 5:00 to 18:00 (5:30 to 17:30 in winter)
Flea Market
Hours: 25th of every month, 6:00 to 21:00
Plum Grove
Open: February to March
Hours: 10:00 to 16:00
Admission: 600 yen