Kamihaga Residence

basic
information
The Kamihaga Residence is the former home and workshop of the Kamihaga family, a branch family of Uchiko's most influential family, the Honhaga. Located in Uchiko's Yokaichi Old Town, the large building complex consists of a spacious Meiji Period residence and a museum which documents Uchiko's wax producing history.
Uchiko wax was well regarded in Japan at the beginning of the Meiji Period, bringing modest prosperity to town residents. This was particularly true of the Honhaga household, Uchiko's main wax producers. The Honhaga and Kamihaga together produced the distinctive "Crane in the Sunrise" label, for which Uchiko became internationally known.
In 1900, when the Honhaga family visited the Paris World Expo to showcase their goods, Uchiko's reputation for high quality wax spread to Europe and America. A new level of success was achieved with average yearly profits totaling over one billion yen in today's currency.
The Kamihaga Residence includes a well documented and informative wax museum with displays in both English and Japanese. The wax making process is detailed by entertaining miniature displays and wax products produced under the "Crane in the Sunrise" label are on show.
Besides the Wax Museum, the family residence itself is a beautifully maintained example of a prosperous family's living quarters during the early 1900s. Elegant tatami rooms with painted screens and decorative pottery are combined with Western elements that became more popular as the 20th century progressed.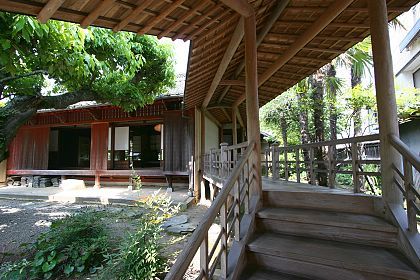 Any advice or questions? Voice them in the forum!

how
to get there
The Kamihaga Residence is located in the Yokaichi Old Town, about a 20-30 minute walk from JR Uchiko Station. It can also be reached in a short ride on the Chagamaru Retro Bus.
How to get to and around Uchiko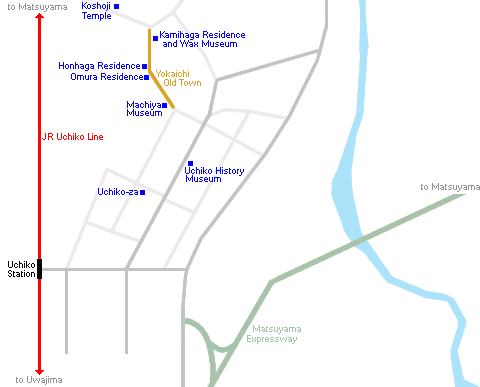 hours
and fees
| | |
| --- | --- |
| Hours: | 9:00 to 16:30 |
| Closed: | December 29 to January 2 |
| Admission: | 400 yen |