Odaiba

basic
information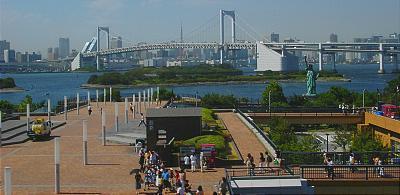 Rainbow Bridge from Odaiba
Introduction:
Daiba, literally meaning "fort", refers to some of the man made islands in the Bay of Tokyo, which were constructed in the end of the Edo Period (1603-1868) for the city's protection against attacks from the sea.
During the extravagant 1980s, a spectacular redevelopment of the islands into a futuristic business district was started, but development was critically slowed down after the burst of the "bubble economy" in the early 1990s.
It was not until the second half of the 1990s, that Odaiba developed into one of Tokyo's most interesting tourist spots and the highly popular shopping and entertainment district, which it is today. Further development of the area is still underway.

Attractions:
Among the attractions of Odaiba are several shopping and entertainment centers, theme parks, museums and the futuristic architecture and city planning. Even access to Odaiba can be considered an attraction (see "How to get there").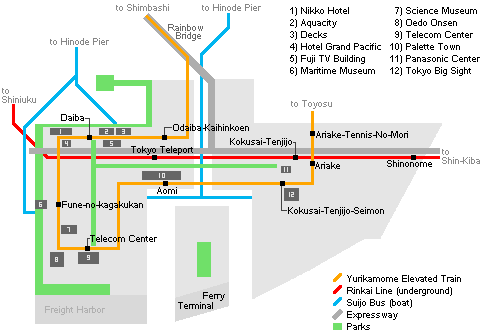 Fuji TV Building
This is the headquarters of Fuji Television, one of Japan's private, nationwide TV stations. You can see some exhibitions on popular programs, buy Fuji TV goods at the souvenir shop and access the futuristic looking building's observatory deck.

Open 10:00 to 20:00. Most attractions are closed on Mondays (closed the following Tuesday instead, if Monday falls on a public holiday). Admission is free except for the observatory deck (500 yen).
Decks Tokyo Beach
Decks is a shopping mall featuring various stores, boutiques, cafes, restaurants, the food theme park "Daiba Little Hong Kong" and "Tokyo Joypolis", three floors packed with the newest arcade games and more.

Open daily 11:00 to 21:00 (some stores and restaurants remain open until 22:00 or 23:00). Admission is free, except to Tokyo Joypolis (500 yen).
Aquacity Odaiba
Aquacity is a shopping mall featuring various stores, boutiques, restaurants, cafes and a 13 screen cinema complex. There are nice views of the Rainbow Bridge from the wooden deck in front of Aquacity and neighboring Decks.

Open daily 11:00 to 21:00 (food court until 21:00, restaurants open until 23:00 or later).
Museum of Maritime Science
Housed in a cruise ship shaped building, the Museum of Maritime Science displays seafaring related exhibits from the past and future. Two actual ships, including the Yotei Maru ocean liner, are moored in front of the museum.

Open daily 10:00 to 17:00 (weekends and holidays until 18:00). Closed Mondays and from Dec 28 to Jan 1. Museum admission: 700 yen. Combined admission to the museum and Yotei Maru is 1000 yen.
National Museum of Emerging Science and Innovation
This well done, highly interactive and bilingual science museum includes exhibits about environmental issues, robots (starring Asimo among others), information technology, biology and space exploration.

Open daily 10:00 to 17:00. Closed Tuesdays and from Dec 28 to Jan 1 (Open Tuesdays during the summer holidays or if Tuesday is a public holiday). Admission: 500 yen.
Telecom Center
The Telecom Center is a major hub on the information highway with several large satellite antennas on its observation deck. The observation deck also offers nice view of the bay area and as far as Mount Fuji on clear days.

The observation deck is open from 15:00 to 21:00 (Saturdays, Sundays, and holidays 11:00 to 22:30). Closed Mondays (closed on Tuesday instead if Monday is a public holiday). Admission is 500 yen (400 yen in combination with a Yurikamome day pass).
Oedo Onsen Monogatari
Opened in March 2003, this is a hot spring theme park, which reproduces the atmosphere of the Edo Period (1603-1868). You can enjoy various types of baths, which are fed by actual hot spring water from a depth of 1400 meters.

Open daily from 11am to 9am (no entry between 2am and 5am, last entry 7am). Admission is 2827 yen (1987 yen if you enter after 6pm). An overnight stay supplement of 1,575 yen applies if you stay after 2am. If you enter between 5am and 7am, the admission is 1,567 Yen. Once a month Oedo onsen closes early at 11pm for maintenance (admission until 9pm).
Palette Town
This shopping and entertainment complex consists of Venus Fort, Sun Walk, Mega Web, a Ferris Wheel and Zepp Tokyo, a large concert venue. See more details on each attraction below.

Open daily. Most shops and attractions are open from 11:00 to 21:00 and restaurants until 23:00.
Venus Fort
Part of Palette Town, Venus Fort is a shopping mall in the style of a 18th century South European town. It features more than one hundred boutiques, shops, cafes and restaurants, targeting a mainly female audience.

Shops are open daily 11:00 to 21:00. Restaurants until 23:00.
Venus Fort Family
Previously called Sun Walk, Venus Fort Family is another shopping mall on the floor below Venus Town. It consists of a relatively small number of spacious stores specializing in interior, sports, kids, pets and books.

Shops are open daily 11:00 to 21:00. Restaurants until 23:00.
Mega Web
Part of Palette Town, Mega Web is a Toyota showroom, where you can view and touch Toyota's newest models and car accessories, test drive a real car ("Ride One") or ride an automatic, electric vehicle ("E-com Ride"). Historic cars are exhibited in the "History Garage".

Toyota City Showcase and History Garage open 11:00 to 21:00. Universal Design Showcase open until 19:00. "Ride One", "E-com Ride" and "Kid's Hybrid Ride One" until 20:00 ("Kid's Hybrid Ride One open until 18:00 on weekdays"). There are occasional closing days. Admission is free, except for "Ride One" (300 Yen per ride) and "E-com Ride" (200 Yen per ride). A Japanese or recognized international driving permit is required for "Ride One" drivers.
Ferris Wheel
Part of Palette Town, this 115 meter tall ferris wheel is one of the world's largest and offers nice views of the bay area.

Operating daily from 10:00 to 22:00 (until 24:00 on Fridays, Saturdays, and days preceding holidays during the spring and summer season. Admission: 900 Yen.
Panasonic Center
The Panasonic Center is a showroom for the latest products and technologies by the Matsushita Group, of which Panasonic is part of. On display are the newest cameras, TV screens, computers, Nintendo games, home appliances and more.

Open 10:00 to 18:00 (entry to Risupia until 17:00). Closed on Mondays, except if Monday is a public holiday. Admission is free except Risupia (500 yen). Entry to Risupia is by numbered ticket which are limited during times of high visitation.
Tokyo Big Sight
Also known as Tokyo International Exhibition Center, Tokyo Big Sight is Japan's largest exhibition and convention center and one of the bay islands' boldest architectural creations. A wide array of events are held at the Big Sight throughout the year.

Hours and admission fees depend on the specific events.
Public Parks
Most of Odaiba's attractions are connected with each other by pleasant, broad pedestrian walks and parks. Among the more noteworthy parks is the Odaiba Kaihin Park near the Rainbow Bridge. It includes a man made sand beach.
Any advice or questions? Voice them in the forum!

how
to get there
Access to Odaiba can be an attraction by itself, as the views of the Rainbow Bridge and Tokyo's harbor and waterfront area from the Yurikamome elevated train or boat are quite spectacular.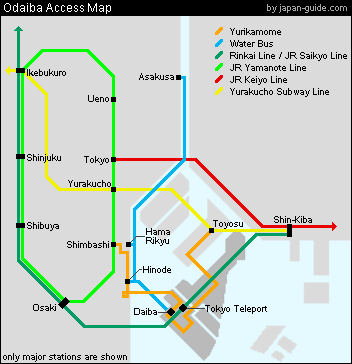 By Yurikamome
The Yurikamome is an un-manned, elevated train with rubber tires, which connects Shimbashi Station on the JR Yamanote Line with all of Odaiba's attractions and Toyosu Station on the Yurakucho Subway Line. A ride from Shimbashi to Daiba takes 15 minutes and costs 310 yen. If you ride the Yurikamome more than twice, a one day pass for 800 yen is likely to come cheaper than single tickets.
The Yurikamome uses the Rainbow Bridge to get to Odaiba and offers spectacular views of the harbor and the Tokyo waterfront area. Sit or stand at the very front of the train for the most impressive views.
By Boat
Tokyo Water Cruise, also known as Suijo Bus, operates frequent boats between Hinode Pier and Odaiba Seaside Park from 10:00 to 17:45 (until 17:15 on weekdays). The 20 minute boat ride costs 460 yen and offers nice views of the Rainbow Bridge and waterfront area.
There are also boats between Hinode Pier and Palette Town and Tokyo Big Sight (25-35 minutes, 400 yen), as well as a small number of direct trips from Asakusa to Odaiba (1 hour, 1,520 yen), two hourly connections between Hinode Pier and Asakusa (40 minutes, 760 yen, via Hama Rikyu) and infrequent service from Hinode Pier to the Maritime Museum (25 minutes, 400 yen).
By Rinkai Line
This is an underground railway line, which connects Osaki Station on the JR Yamanote Line with Shin-Kiba Station on the JR Keiyo Line. Some trains on the JR Saikyo Line continue to run on the Rinkai Line and provide direct connections between Shibuya, Shinjuku and Odaiba.
The ride from Shinjuku to Tokyo Teleport Station on Odaiba takes 25 minutes and costs 480 yen. Note that the Japan Rail Pass, Seishun 18 Kippu and similar JR tickets are not valid on the Rinkai Line between Osaki and Shin-Kiba, even though the line is served by JR trains.
On Foot
It is possible to cross the Rainbow Bridge on foot. The walk across takes about 30 minutes and offers nice views of the waterfront area. To access the bridge, get off at Shibaura-futo Station on the Yurikamome.