Shiodome

basic
information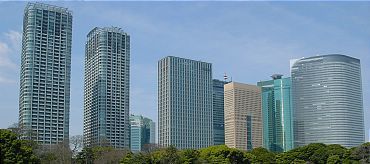 Shiodome viewed from Hama Rikyu Gardens
Shiodome Shiosite is one of Tokyo's newest cities within the city. Its spectacular skyscrapers accommodate many offices, the headquarters of Nippon Television and a large variety of shops, cafes, restaurants, theaters and hotels.
Shiodome used to be a marshy tideland in the beginning of the Edo Period (1603 - 1867), when it was reclaimed and given its present name, literally meaning "place where the tides stop".
In 1872, Shiodome became the site of Shimbashi Station, the Tokyo terminal of Japan's first railway line, connecting Tokyo with Yokohama. The station was later renamed Shiodome Station and converted into a large railway freight terminal, which it remained into the 1980s. The redevelopment of Shiodome started a few years later.
A replica of the former Shimbashi Station building is one of Shiodome's attractions. Standing next to the Shiodome City Center skyscraper, it houses a small museum about the history of the railway station and the Shiodome area with English explanations.
Caretta Shiodome is a skyscraper of 51 floors, most of which are occupied by the offices of Dentsu, Japan's leading advertising company. The other floors accommodate a musical theater, a museum on advertising and a range of shops, cafes and restaurants, including the "sky restaurants" on the building's top floors.
Nippon Television Tower (Nittele Tower) is the headquarters of Nippon Television, one of Japan's private, nationwide television networks. A shop with goods related to NTV's personalities and programs and several restaurants can be found there.
Note that additional sights and buildings are currently still under construction and will be opening to the public in the coming months and years.
Any advice or questions? Voice them in the forum!

how
to get there
Shiodome is directly connected with Shimbashi Station on the JR Yamanote Line, JR Keihin-Tohoku Line and the Asakusa and Ginza Subway Lines as well as Shiodome Station on the Oedo Subway Line and the Yurikamome, an elevated train to Odaiba.