Kita (Umeda)

basic
information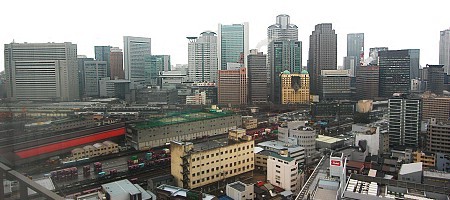 The Kita ("North") district, also known as Umeda, is one of Osaka's two main city centers. It is located around the large station complex that comprises Osaka and Umeda Stations. Kita's counterpart is Minami ("South") around Namba Station.
Besides being Osaka's busiest transportation hub and a bustling business district, Kita also offers an abundance of shopping, dining, lodging and entertainment, including several department stores and a large underground shopping mall.
Most of the action in the Kita district is currently concentrated to the south of Osaka Station, while an expansive freight railyard used to occupy the northern side of the station. However, in a major redevelopment project, the railway yard will be transformed into new commercial and residential areas over the coming years.
In a first stage, a spectacular new North Building is now being constructed over Osaka Station, to be completed in 2011.
Umeda Sky Building
North of Osaka Station is Shin Umeda City, a building complex centering around the Umeda Sky Building, a spectacular 173 meter tall skyscraper with the Floating Garden Observatory on its roof. The skyscraper next to the Umeda Sky Building houses the Westin Osaka.
The Floating Garden is open 10:00 to 22:30. Admission: 700 yen.
Department Stores
There are a number of major department stores in the Kita area including Hankyu, Hanshin and Daimaru. Many of the stores share their names with the local train companies as the trains and department stores are owned by the same corporations.
Typical business hours are daily from 10:00 to 20:00.
HEP (Hankyu Entertainment Park)
HEP is a large shopping and entertainment complex consisting of the HEP FIVE and HEP Navio buildings, east of the Hankyu department store. HEP FIVE features a red ferris wheel emerging from its roof, while the entire complex houses over 300 shops and restaurants.
Shops are open daily from 11:00 to 21:00. The ferris wheel and restaurants until 23:00.
Yodobashi Camera Umeda
This gigantic branch of the Tokyo based electronics retailer stocks almost every current item by the major camera manufacturers. Besides cameras you can find almost anything electronic, while the top floor offers restaurants with nice views of the city.
Open daily 9:30 to 21:00.
Kitashinchi
Kitashinchi is an entertainment district, located south of and within walking distance of Osaka Station. Here you will find hundreds of restaurants, bars and night clubs to suit almost any taste.

Kitashinchi comes to life after 18:00.