Expressways

basic
information
Japan's four main island and Okinawa are covered by a expressway network of over 7,000 kilometers. Further routes are still under construction. Below is a map showing most operational highways.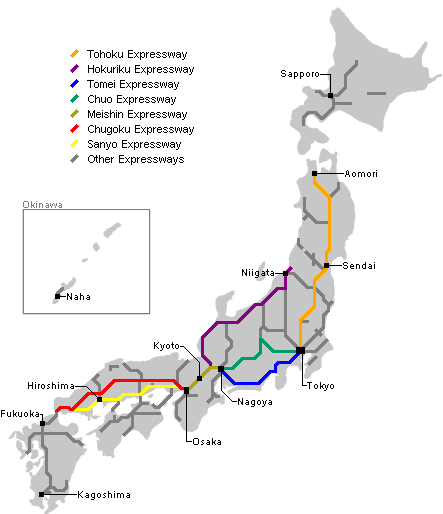 Foreign visitors should encounter few problems using Japanese expressways, since all important signs are written in both, Japanese and English. The speed limit for passenger cars is usually 80 or 100 km/h.
The use of highways is subject to tolls. The table below shows approximate costs for a regular vehicle between selected major cities. Lower rates apply to light vehicles and motorcycles, while higher rates apply to trucks, buses and trailers.
Approximate Tolls (in yen):

| | | | | | | | |
| --- | --- | --- | --- | --- | --- | --- | --- |
| | Kagoshima | Fukuoka | Hiroshima | Osaka | Kyoto | Nagoya | Aomori |
| Tokyo | 27,500 | 23,000 | 17,000 | 12,000 | 10,500 | 8,000 | 14,000 |
| Aomori | 39,000 | 34,000 | 28,500 | 23,000 | 22,000 | 20,500 | |
| Nagoya | 21,000 | 16,000 | 10,500 | 3,500 | 3,500 | | |
| Kyoto | 18,500 | 13,500 | 8,000 | 2,000 | | | |
| Osaka | 18,000 | 13,000 | 7,500 | | | | |
| Hiroshima | 11,500 | 6,500 | | | | | |
| Fukuoka | 6,000 | | | | | | |
Approximate Travel Distance:

| | | | | | | | |
| --- | --- | --- | --- | --- | --- | --- | --- |
| | Kagoshima | Fukuoka | Hiroshima | Osaka | Kyoto | Nagoya | Aomori |
| Tokyo | 1400km | 1100km | 850km | 550km | 500km | 350km | 700km |
| Aomori | 2050km | 1800km | 1500km | 1200km | 1150km | 1050km | |
| Nagoya | 1050km | 800km | 500km | 200km | 150km | | |
| Kyoto | 900km | 650km | 350km | 50km | | | |
| Osaka | 1000km | 700km | 450km | | | | |
| Hiroshima | 550km | 300km | | | | | |
| Fukuoka | 300km | | | | | | |
Four public corporations were formerly in charge of expressway construction and maintainance. However, in October 2005, the public corporations were restructured into the following six private companies:
East Nippon Expressway (Hokkaido, Tohoku, Kanto)
Central Nippon Expressway (Kanto, Chubu)
West Nippon Expressway (Kansai, Chugoku, Shikoku, Kyushu)
Metropolitan Expressway (metropolitan Tokyo)
Hanshin Expressway (Osaka and Kobe)
Honshu-Shikoku Bridge Expressway (between Shikoku and Honshu)