Gujo Hachiman Travel Guide

basic
information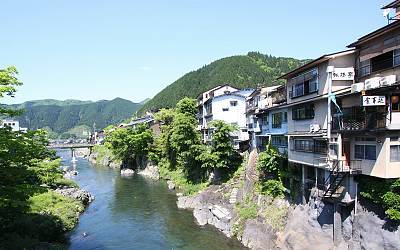 Gujo Hachiman is a small, riverside town in Gifu Prefecture, known for its pristine waterways and its distinctive summer dance festival. The town was founded in the 16th century following the construction of Hachiman Castle.
Gujo's waterways function in much the same capacity as they did in the 1600s. Walking through town provides visitors with a look at the many canals, fountains and waterways that are still used for washing rice, vegetables and laundry. Townspeople cooperate to keep the canals clean and the water fresh; as a result of their efforts, Gujo's drinking water is a source of local pride.
Gujo Odori is the name of the large summer dance festival held in Gujo Hachiman. The festival started over 400 years ago and continues today for a period of thirty-one festival nights between July and September. During the four days of Obon in mid August, dances continue all through the night.
Gujo is also a leading producer of food replicas in Japan. Many of the food replicas, used by restaurants to decorate their windows and inform patrons of their dishes, are produced here. Visitors can try their hand at creating wax shrimp tempura in some of the workshops.