Nijo Castle

basic
information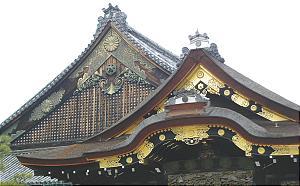 Ninomaru
Nijo Castle (Nijojo) was built by Tokugawa Ieyasu, founder of the Edo Shogunate, as the Kyoto residence for himself and his successors.
The palace building now known as Ninomaru ("secondary castle"), was completed in 1603 and enlarged by Ieyasu's grandson Iemitsu. It survives in its original form and is famous for its Momoyama architecture, decorated sliding doors and floors that squeak like nightingales when someone walks on them (a security measure against intruders).
Iemitsu also added the Honmaru ("main castle") including a five storied castle tower to Nijo Castle. However, the original honmaru structures were destroyed by fires in the 18th century, and the present building was moved there from the Imperial Palace in 1893.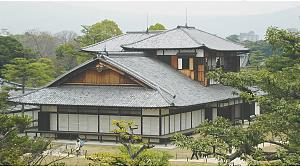 Honmaru
Nijo Castle is one of Kyoto's many UNESCO world heritage sites.

how
to get there
Nijo Castle is most easily accessed from Nijojo-mae Station on the Tozai Subway Line. From Kyoto Station, take the Karasuma Subway Line to Karasuma Oike Station and transfer to the Tozai Line. The whole trip from Kyoto Station takes about 15-20 minutes.
Orientation in Kyoto
Admission: 600 Yen
Hours: 8:45 to 17:00 (admission until 16:00). Closed on Tuesdays (Wednesday if Tuesday falls on a national holiday) during January, July, August and December. Closed from December 26 to January 4.