Sashimi

basic
information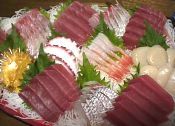 Sashimi is thinly sliced, raw seafood. Many different kinds of fresh fish and seafood are served raw in the Japanese cuisine. Sashimi, while similar to sushi, is distinct for its absence of vinigered rice. When slices of fish are served on top of a small ball of rice, it is called nigiri zushi.
H.I.S. Experience Japan Tours




Make Your Own Sushi


Learn how to make sushi, make sushi by yourself and taste the sushi.
Sashimi is usually beautifully arranged and served on top of shredded daikon and shiso leaves. The sashimi pieces are dipped into a dish of soya sauce before being eaten. The daikon and shiso can also be dipped in soya sauce and eaten; both have a fresh, minty taste. Depending on the kind of sashimi, wasabi or ground ginger may accompany the dish and be added to the sashimi as a condiment.
Some of the most popular kinds of sashimi are:
Maguro: Tuna
Toro: Fatty Tuna
Ebi: Prawn
Saba: Mackerel
Ika: Squid
Tako: Octopus