Renting a car

basic
information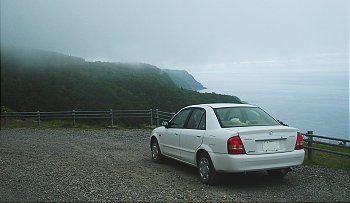 Renting a car is an option worth considering if you plan to explore rural Japan, where access by public transportation can be inconvenient and service infrequent. A rental car can also be an economical alternative, if you are traveling in groups.
Exploring Japan's big cities by car, however, is not recommended, as traffic tends to be heavy, orientation difficult, and parking fees high. Trains, subways and buses are generally a better choice in metropolitan areas.
Visit also our pages on Driving in Japan and Japanese highways.
Requirements
In order to rent and drive a car in Japan, you require a Japanese driving license or an international driving permit. In case of France, Germany and Switzerland, an official translation of your home country's driving license is accepted.
International driving permits must be obtained in your home country, usually through the national automobile association, before you leave for Japan. Foreigners can drive in Japan with a recognized international driving permit for up to one year after entering the country.
Japan recognizes only international driving permits, which are based on the Geneva Convention of 1949. A few countries, including Belgium, France, Germany and Switzerland, however, issue international driving permits, which are based on different conventions. The permits issued by those countries are not valid in Japan.
Instead, holders of a French, German or Swiss driver's license can drive in Japan for up to one year with an official Japanese translation of their driving licenses to be obtained from the respective country's embassy or consulate in Japan. People from other countries, whose international driving permits are not recognized by Japan, must attain a Japanese driving license in order to drive in Japan.
The minimum age for driving in Japan is 18 years.
Rental Companies
Among Japan's leading car rental companies are Mazda Rentacar, Nissan Rentacar, Toyota Rentalease, Nippon Rentacar and Orix Rentacar. They operate hundreds of outlets across Japan, offering cars in all sizes and, in some cases, large vans, buses and RVs.
Most Japanese car rental companies do not provide English websites, and service in English is not usually available.
International car rental companies such as Budget, Avis and Hertz also offer car rental in Japan, typically in cooperation with one of the leading Japanese car rental companies, however, their rates are usually not very competitive.
The cost per day in case of Japanese companies is typically around 6,000 Yen for the smallest car category, around 10,000 Yen for mid sized cars and around 15,000 Yen for full sized cars, including a mandatory insurance fee of around 1000 Yen per day. Rates are usually higher during peak seasons, especially in Hokkaido.
A recommended service for car rental in Japan is ToCoo. The discount travel service does not only offer lower rates on car rental, but also provides an English website and support in English.